NEWS:
Notice: get_settings is deprecated since version 2.1.0! Use get_option() instead. in /home/arkmay/godofshamisen.com/wp/wp-includes/functions.php on line 4648

Notice: register_sidebar was called incorrectly. No id was set in the arguments array for the "Sidebar 1" sidebar. Defaulting to "sidebar-1". Manually set the id to "sidebar-1" to silence this notice and keep existing sidebar content. Please see Debugging in WordPress for more information. (This message was added in version 4.2.0.) in /home/arkmay/godofshamisen.com/wp/wp-includes/functions.php on line 4986

Warning: count(): Parameter must be an array or an object that implements Countable in /home/arkmay/godofshamisen.com/wp/wp-includes/post-template.php on line 316

June 23, 2013 — Kickstarter: Monsters of Shamisen CD!
While we continue to sell our old albums, God of Shamisen has technically been inactive for a while now. (We will return with new music, I promise!)
But in the meantime, our good friend and shamisen player Kyle Abbott is trying to fund the new Monsters of Shamisen album, which feature's GOS's very own shamisen master Kevin Kmetz!
Check out the KIckstarter campaign right here!
And as of this writing, the campaign has almost expired!! (It may be over by the time you read this.) But if you can, check it out and please help their project!
Thanks, everybody! And look for new GOS soon…
---
October 7, 2012 — "Begin Japanology" interview with Kevin!
Kevin Kmetz, with some live footage of God of Shamisen, was featured in a recent episode of Begin Japanology, a Japanese documentary TV show. Check out his interview in this video!
---
March 15, 2011 — Please Donate to Japan
Please donate to the Japanese Red Cross Society, or other foundations, to help Japan!
---
November 23, 2010 — Buy our second album: SMOKE MONSTER ATTACK!
Smoke Monster Attack is now available for purchase!
You can listen to previews and buy MP3 from CDBaby here.
Or you can buy MP3 or high quality lossless FLAC from LobeFood here.
Check out our new album and let us know what you think!
We are also proud to announce that our first album, Dragon String Attack, is also finally now available in lossless FLAC format as well.
---
November 8, 2010 — New Album! Smoke Monster Attack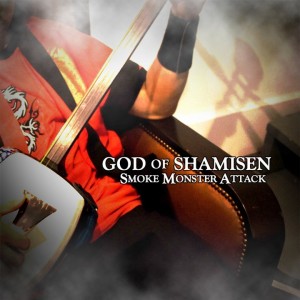 Teaming up with producer Billy Anderson, God of Shamisen returns with Smoke Monster Attack, their second album. Featuring some new tunes along with some interesting video game cover songs, we run the musical gamut from an aggressive new arrangement of the traditional "Jongara Bushi," to the Indian-inspired mellow breakdowns of "Last Shamisen Master Attack," to a wild metal cover of the Star Wars theme. The album will be only available digitally, and will be available to download on iTunes, Amazon, and other online stores soon! More details soon.
---
October 29, 2010 — Thank you, Kansas City!
Earlier this month, God of Shamisen played at the 2010 Greater Kansas City Japan Festival. Here's some video from our weekend!
---
August 20, 2010 — Coming this OCTOBER 2 – Kansas City Japan Festival!
Saturday, Oct. 2, 2010, God of Shamisen will perform at the Greater Kansas City Japan Festival! More details on our appearance will be available soon. Read more about the KC Japan Festival on their website!

---
October 7, 2009 — Thank you Atlanta!
Thanks to the Japan National Tourism Organization for having us play at JapanFest Atlanta this year! We had a great time and met a bunch of new fans!
Also – we now once again have more T-Shirt sizes (Small thru XL) finally available to order in our website's store. Check em out!
---
September 11, 2009 — JapanFest and other Georgia tourdates!
Check out the top of our website to see the current tourdates. We have two shows performing at this year's JapanFest in Atlanta, as well as various other shows in the Atlanta area. Kevin Kmetz will be performing a solo shamisen performance at Goergia State on Sept 16, as well as various acoustic workshops at JapanFest itself. Then the band has two 21+ rock club shows, one at the Drunken Unicorn in Atlanta and one at the Wormhole in Savannah. The dates and details of these shows are at the top of our website!
We hope to see our southern fans at as many of these shows as possible! Of course, we'll have our CD, 7″ vinyl, and t-shirts (finally back in all sizes) for sale as well. See you soon!
---
August 6, 2009 — Geekbox Podcast
Kevin and Mark from God of Shamisen appeared on this week's internet radio podcast, the Geekbox! You can check out Episode #26 here!
---
August 2, 2009 — New Music Video!
God of Shamisen recently unveiled their first promo music video for a studio track!
Check it out!
---
July 17, 2009 — Friday, July 31 in Oakland
God of Shamisen will come out of hiding and play The Fishtank at the end of this month – Friday July 31!
We'll be joined by Shamalamacord, the shamisen + accordion duo, for their monumental CD release party!
The show will be ALL AGES!
Fishtank is located at 3405 Piedmont Ave.
The show starts around 8PM and will cost $5-20 donation.
Then later in August, expect an interview with GOS bandleader and shamisen master Kevin Kmetz on the awesome podcast The Geekbox. More details on that later…
---
June 22, 2009 — JapanFest Atlanta!
God of Shamisen will be performing at JapanFest this September 19 & 20 in Atlanta!
This will be followed by many tourdates in the South USA. More details will be posted here soon!
---
GOS drummer Lee smith is touring with Orange Tulip Conspiracy this May!
Check out tourdates here.
Also this may, GOS bandleader and shamisen master Kevin Kmetz will be touring Japan in the shamisen group Monsters of Shamisen!
Check out Japanese tourdates here.
---
November 22, 2008 — Recording for EMI Japan
We have just completed Kevin Kmetz's solo CD with producer / engine-ear Billy Anderson, This is for major label EMI Japan! Check out some videos of us in the studio:
---
September 20, 2008 — Back from tour! New CD!
We have just returned from a successful tour of the USA west coast!!  Thank you, everyone who came to our concerts.
Our debut CD Dragon String Attack is finally out!
More album details here.
You can buy it from a number of places, including:
---
February 12, 2008 — GOS on documentary soundtrack
God of Shamisen has a song featured in the new a rock climbing / bouldering documentary DVD. Check out the Big in Japan Tour DVD from DrTopo.com!
Our full-length album, Dragon String Attack, was recently completed!! We are currently looking for label and distrbution offers. Our CD should be available sometime in 2008! For release date announcements, please sign up on our email list, to the right.
---
December 2, 2007 — CD and vinyl soon!
Mixing on our first full-length album, Dragon String Attack, is almost done!
Additionally, a 7″ single will be available in early 2008!
---
October 1, 2007 — Final Fantasy Attack
As a gift to our fans we've posted "Final Fantasy Attack" online. This is the studio version of our cover medley of Final Fantasy 1 music. You can listen to the track and download an MP3 here!
We are doing the final mixing of our album, Dragon String Attack. Then we will be talking to labels, finishing our live DVD, and preparing a 5.1 surround mix of the album as well. Expect the album in early 2008 – seriously. :)
---
Thanks to everyone who saw us at Fanime Con! It was a lot of fun! We hope to do it again next year!
---
GOD OF SHAMISEN will be performing at this year's FANIME CON Japanese animation convention in San Jose, California, on Sunday, May 27.
The full band performs Sunday, May 7 ~ 1:30 pm
San Jose Convention Center, Room J
Kevin will be also giving brief traditional Tsugaru-Shamisen demonstrations at the con's Stage Zero at the following times:
Saturday @ 5pm
Sunday @ 4:30pm
We will also have a table in the Artist Colony, for the entire weekend, where we will be selling NEW T-SHIRTS and exclusive CDs!
---
February 1, 2007 — Album almost done!
Studio album work steadily progresses, as guitarist Karl Schnaitter officially joins the band! God of Shamisen bandmember Mark Thornton will be touring in March with Secret Chiefs 3, while Kevin & Lee will be on tour with Estradasphere throughout April.
The God of Shamisen album completion is tentatively set for May, with a summer release. The album features God of Shamisen as well as a variety of guest musicians, including Masahiro Nitta (shamisen), Takemi Hirohara (shamisen), Deepak Ram (bansuri), Trey Spruance (guitar), Adam Stacey (clavinet), Mark Sowlakis (clarinet), Dale Ockerman (organ), Nat Shuirman (bass), Dave McCoy (bass), Tom McLaughlin (contrabass), and Rick Walker (a variety of percussion).
We've received numerous requests for MP3s to be posted for download on our website. These are coming soon!! In the meantime you can listen to demos on our myspace page.
---
December 1, 2006 — Kevin to tour with Masahiro Nitta
G.o.S. shamisen player and bandleader Kevin Kmetz is proud to announce a visit in January by MASAHIRO NITTA, a famous Tsugaru Shamisen player from Sopporo, Japan. This two-time national shamisen champion is a perfect match for Kevin's fusion of styles. We are preparing to record Masahiro Nitta as one of the many guest musicians for the upcoming God of Shamisen album!
Kevin Kmetz, Masahiro Nitta and Mike Penny will be performing the following shows:
Jan. 11 – San Francisco CA @ Japanese Cultural and Community Center
Jan. 12 – Santa Cruz CA @ Cayuga Vault
Jan. 14 – Claremont CA @ Folk Music Center, 722 Yale Ave
Jan. 15 – Altadena CA @ Coffee Gallery
Jan. 20 – Los Angeles CA @ Taiko Center of Los Angeles
---
November 1, 2006 — Album coming soon
The album is tentatively titled Dragon String Attack and set for completion in March 2007. The album will include new versions of our current studio songs and feature a variety of surprise guest musicians we cannot yet reveal!
Read more about the band and its bandmembers on the new Bio page.
Kevin Kmetz is currently on tour with a Romanian-Gypsy-Flamenco band, the Fishtank Ensemble.
---
August 1, 2006 — Kevin wins award at shamisen tournament!
This past spring, G.o.S. bandleader Kevin Kmetz won 2nd Place at the annual National Tsugaru Shamisen Tournament held every May in Kanagi, Japan. Check out more info plus video clips and photos here!
---
November 30, 2005 — Back from Tour!
G.o.S. went on their "Northwest Attack" Tour in October 2005.
Take a look at our awesome Tour Journal video!